In today's world of plastic materials there is an expanding array of characteristics for strength, abrasion and chemical resistance and heat tolerances. There are many variations of plastic materials and each one has their own set of properties. Why go plastic? It is cost effective, clean, lighter than metal, and versatile, depending on which plastic you choose.
With many years of experience in machining/fabricating with plastics, we have the knowledge to both improve on existing parts and offer advice for research and development. We can take your sketch and make it a reality. When specializing in plastic only; there will be no cross contamination risk FDA this material offers the food industry products that are chemical resistant, with great wear properties.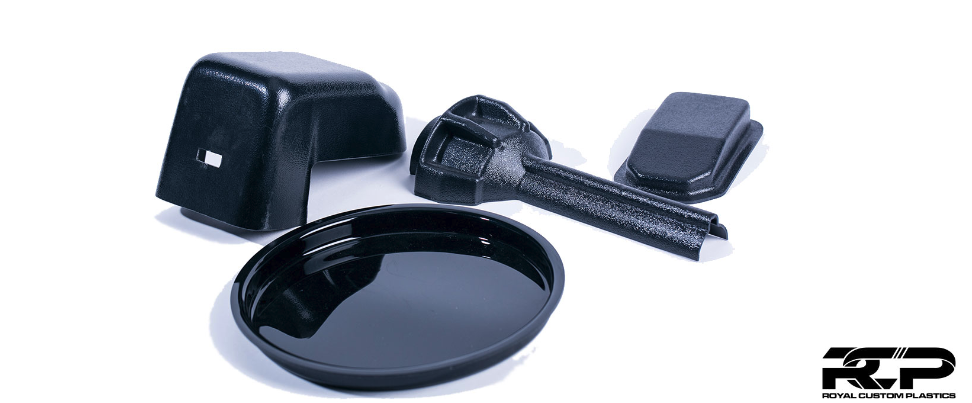 OVERVIEW
ABS is a plastic that provides good tensile strength and has exceptional mechanical and surface toughness. There are many different formulations of ABS available such as, flame retardant, anti-static, chemical and abrasion resistant. Common colors are black and white. A variety of modifications can be made to improve impact resistance, toughness, and heat resistance.
ABS plastics is a common thermoplastic polymer, Lego bricks are made from ABS a strong material most adults and children enjoy.
Royal Custom Plastics uses ABS to fabricate and/or machine totes, guards, catch pans, electrical connection boxes and shrouds. ABS is also a very highly used material in vacuum formed parts.
HEAT & CHEMICAL RESISTANCE
ABS can be easily modified by the addition of additives and by variation of the ratio of the three monomers Acrylonitrile, Butadiene and Styrene: grades available include high and medium impact, high heat resistance, and electroplatable. The high heat resistance grade can withstand temperatures up to 220-240 °F at 264 psi and 230-245 °F at 66 psi.
MECHANICAL PROPERTIES
ABS is an easily machined, tough, low cost rigid thermoplastic material with high impact strength. It is ideal for drilling, sawing, milling, die cutting, shearing and turning. It has excellent abrasion resistance and electrical properties.
FLAMMABILITY
ABS is rated HB
SPECIFICATIONS

IAPD specification sheet for ABS
Acetal Delrin Placeholder
Ertalyte PET-P & TX Placeholder
Nylon / Nylatron Placeholder
Polycarbonate Placeholder
Polypropylene Placeholder







Royal Custom Plastics
1709 Suburban Drive
De Pere, WI 54115
info@royalcustomplastics.com
Phone: (920) 983-1315
Fax: (920) 983-2985
Copyright © 2015 Royal Custom Plastics